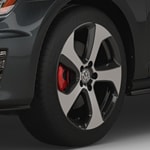 The Volkswagen Golf GTI is a compact car here at Mitchell Volkswagen in Canton, CT that offers an amazing blend of performance and safety. With its advanced driver assistance system, the car can help you maintain your lane position and stay in the middle of your lane by changing speed according to traffic flow.
It also has a night vision assistant that allows you to see pedestrians and other cars better at night than with just headlights alone. The stability control system applies braking force to each wheel depending on the conditions and you can also select different driving modes for your Volkswagen Golf GTI. If you're concerned about safety this might be just the car for you.
The Volkswagen Golf GTI has received five out of five stars from NHTSA (U.S. National Highway Traffic Safety Administration) in both frontal and side-impact tests, as well as five stars in the rollover test. It also had an overall rating of four out of five stars.
The Volkswagen Golf GTI is available with a 2.0-liter TSI engine that generates 210 horsepower at 4,800 RPM.